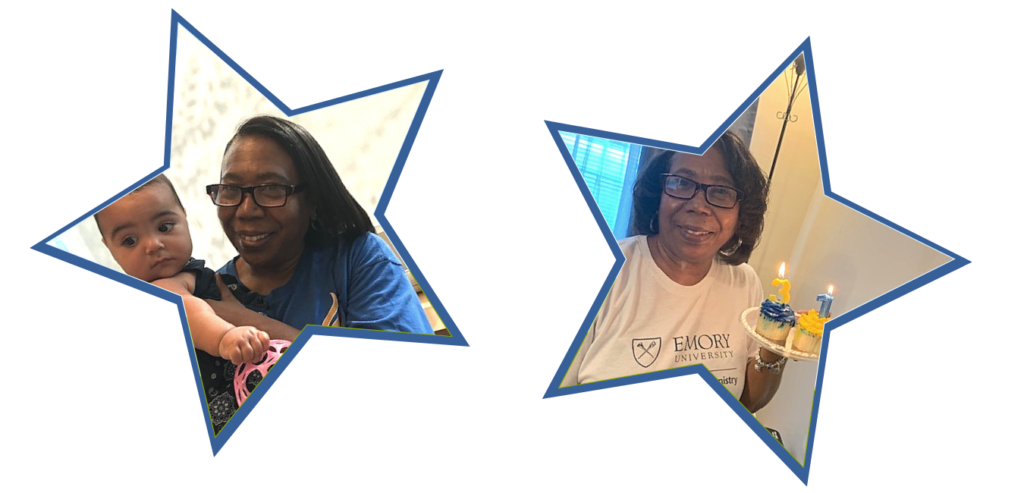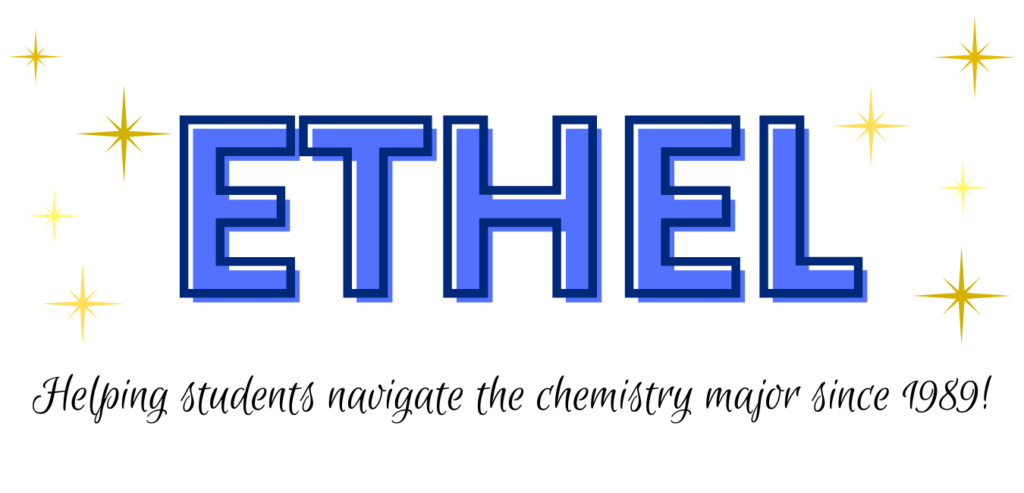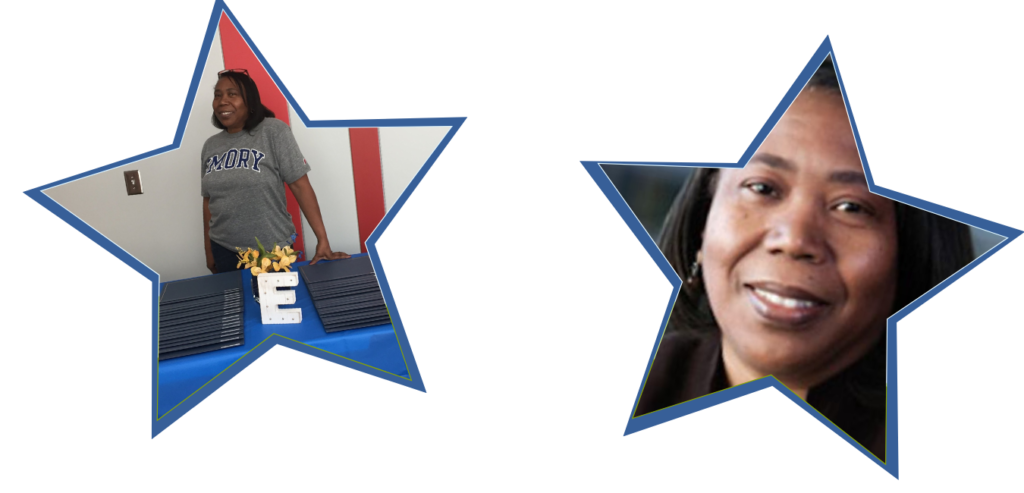 ---
Congratulations Ethel – thank you so much for your constant grace and humor and amazing dedication to the department. We will miss you!
Simon
---
It has a real pleasure working with you for the past 10 years! You will be missed very much!
Khalid Salaita
---
Thanks Ethel for everything you have done! We will miss you!
Bill
---
Ethel, working with you has been a privilege. You are quick to help without any expectation. You always make me feel like I am a part of something, a member of a community, instead of just going to work. I will miss your greetings, your matter-of-fact attitude, your love for your occasional co-worker and wonderful granddaughter, Kayla. I am going to miss you so much but I am thrilled for you to take this next step confident in the legacy you've left behind for your colleagues and our students. Have an amazing retirement…and please come visit!
Kira Walsh
---
Congratulations, Ethel!
Justin Gallivan
---
Hi, Ethel! I will miss working with you and I know so does the rest of the staff and students. Enjoy the next phase of your life adventure.
Patrick
---
It's like we're going to be "Mory" now. Ethel is the "E."
W will r ally miss you at mory b caus th r will n v r b anoth r big "E". W lov you!
Todd Polley
---
I only came to Emory in July, but the transition to a new position in the midst of a pandemic would not have been as smooth without all of your help! Thank you for helping me navigate enrollment and other student course logistics. Enjoy retirement!
Kate McKnelly
---
Congratulations on your retirement! Thanks for waiting until I learned where most things are in the main office before retiring 🙂
Antonio Brathwaite
---
Hi Ethel, it has been a real blessing working with you! I wish you the best and lots of fun during your retirement!
Francesco
---
A well deserved retirement. You have always been the glue that has held the Department together.
Tim Stephens
---
It's been great serving with you all these years. Thanks for the various discussions, and the recent one about retirement. Have a great time as you enter the next phase of your life. Thanks for all you have done.
Craig
---
Congratulations on your retirement! Thanks for teaching me OPUS and everything related to enrollment.
Fang Liu
---
I feel like we're losing the glue that holds us together! I know your family will appreciate a little more Ethel time, however! We will miss you so much!
Michael McCormick
---
Congratulations!! I will miss you. Your someday has finally arrived! I wish you the best.
Kyla Ceesay
---
Congratulations, Ethel! It has been an honor to work with you since 1999. Thank you so much for all of your help in every single one of those years. I (possibly) have learned enough from you that I can now get through a full semester without dire consequences. You've patiently helped me in so many ways (always with grace and a smile). Photocopiers malfunctioning on exam days! No problem. Ethel is here. Student sending panicked emails about class enrollment?! No problem. Ethel is here. Empty Halloween candy bowl!! No problem. Ethel is here. Goodwill. Knowledge. Humor. Ethel is here… Now, time to enjoy your retirement. Please visit when you can!
Matthew Weinschenk
---
Ethel, The department will not be the same without you!!
Susan
---
Dear Ethel, Happy Retirement ! Congratulations…. you did it! I will miss our early morning "chat" and your always boosting (for whole day) jokes!
Jamal
---
They say that retirement is an endless vacation, but somehow I imagine you are moving on to the next job. I hope it is fulfilling and you find joy in it. We will miss your quiet competence, kind ways and wonderful smile. Thanks for all you have done for Emory Chemistry.
Brian
---
Ethel, You have been a cornerstone of our program. Your generosity with our students and your willingness to adapt to over changing landscape will be missed. Enjoy your retirement! You've certainly earned it!
Cora
---
Thank you Ethel for your faithful years of service to the department. You were always friendly and helpful to me. I could count on your help. You even tolerated my dog Fitzgerald. Retirement is good and I wish you the best.
Ron Johnson
---
Good Luck, Ethel. I know that you have been counting down the days for at least the last ten years. Now, I can no longer tease you that the mail duties will return to you. Don't disappear. Best, as always,
Vince
---
Ethel, thank you for everything you do for the the Department. I have no idea how I would have done any facet of my job without your help. The best part of being DUS was that I got to work more closely with you. Thank you for waiting until after I left to retire and not making me work without you.
Jeremy
---
Ethel, It has been an honor to be your colleague and I have tremendous appreciation for all you have done for the Department. Thank you for all of your work to create a great learning environment for students and I wish you a wonderful retirement!
Jen
---
Ethel, I'm sooo glad I got to know you and work with you for 17 years! You were such a sweet person after that blind went up to hide your desk. LOL! I wish I were there to say goodbye in person. Good Luck!
Leslie
---
Dear Ethel, I cannot imagine Emory Chemistry without you. You have been so fundamentally important to so many different things that it is not possible to fathom these activities progressing without your dedication and expertise. Class registration, classroom assignments, scheduling make-up exams, declaring a chemistry major, decorating for Department activities, the graduation party … I even remember when you were the Queen of the keys! (I also remember getting in trouble on my first day because I showed up for keys after 10 AM!!) Although I know everyone hates to see you leave, I also know you have earned this retirement. Go and enjoy it!! Love and miss you.
Susanna Widicus Weaver
---
From the time I taught my first class at Emory and over 10 years as Department Chair, Ethel was always in charge. With an nod and a wink, Ethel just did what needed to be done to keep us all moving forward. Do not know how we will survive without Ethel. Thank you so much for your wisdom, focus, patience, and marvelously good humor Ethel. Take good care!
David Lynn
---
Dear Ethel, I'm going to miss you! The chemistry department won't be the same without your good cheer and your steady guidance. You've earned a fantastic retirement – enjoy every day of it!
Frank
---
Please don't goooooooooooooo
Tamra
---
Ethel, it has been a pleasure and a privilege to work with you all these years. In particular, you have been a true lifesaver these past eight months or so as I've been learning the ropes of the DUS role AND we've had to do everything in the most complicated possible way, pandemic-style. Not only your reliability but also your grace, humor, patience, and compassion in dealing with all these frustrating situations and people have been tremendous. I am very happy for you that you get well-deserved time for yourself, your family and friends, and I am sure you will continue to treat every day as a gift and see the silver lining in every cloud. With sincere gratitude and warmest wishes,
James
---
Welcome to the next stage of your life, where every day is the weekend!
Cyderria Holmes
---
Thanks for all you have done for our department, congratulations, & enjoy!
Diane Karloff
---
Thanks for all of your help and good humor over the past few decades. You are irreplaceable, but you have my very best wishes for the future.
Michael Heaven
---
Ethel. I don't even know how properly to say thank you for all that you have done to help support me throughout the years that I've been in Emory. Of course, there's all the work that you've done with the undergraduate committee and chemistry unbound. But there's also the toys you had on your desk for my boys when they came in. You always asked after Courtney and my family brought a smile to me when I came to the main office. Thank you so much for your caring and support. Enjoy your retirement and the extra time with your family!
Doug
---
Thanks for everything, Ethel!
Robert VanGundy